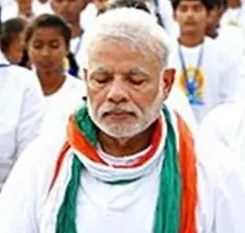 International Yoga Day 2020
India celebrates 6th International Yoga Day 2020
India celebrates the sixth edition of Yoga Day today amid the COVID-19 pandemic by going digital for the first time. On the occasion, of International Yoga Day was Prime Minister Narendra Modi addressed the nation and underscored the importance of yoga, meditation and pranayama. This year's theme is 'Yoga at Home and Yoga with Family'.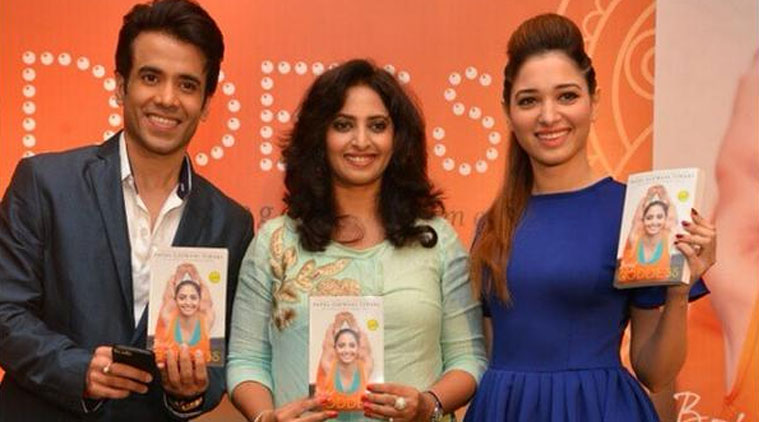 Tamannaah Bhatia, Tusshar Kapoor launch yoga book for women
Tamannaah Bhatia, Tusshar Kapoor launch yoga book for women
Actors Tamannaah Bhatia and Tusshar on Saturday launched Payal Gidwani Tiwari's book "Body Goddess: The Complete Yoga Guide For Women".
On her association with the author, Tamannaah said: "Payal has been training me for the last two and half months and I've experienced immense difference in my body already.
"Yoga is the only activity which helps you not only physically but also mentally. So I'm in favour of doing yoga as a daily routine just like brushing teeth."
Author Payal said her book – which contains a foreword by actress Sridevi – was a small contribution of "a drop in an ocean" from her end, and she chose Tamannaah for the launch as "she gets the holistic feel out of yoga".
Tusshar claimed his first experience with yoga was "hell" as he couldn't do any of the exercises. But later it grew on him.
More...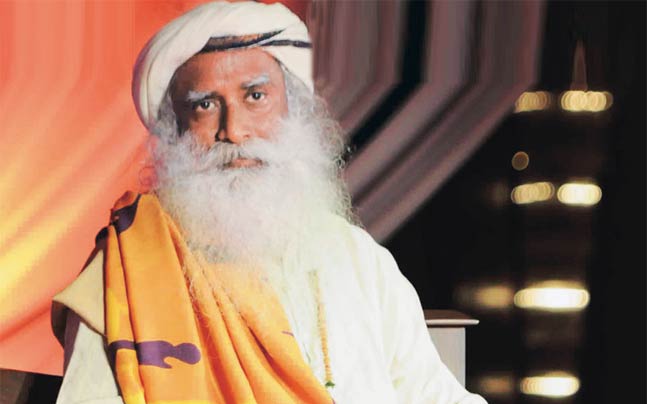 Yoga predates all religions - Sadhguru Jaggi Vasudev
Yoga predates all religions, says prominent yoga practitioner Sadhguru Jaggi Vasudev
"Yoga's antiquity goes back to 15 millennia when even the idea of religion did not exist in human mind, but yoga did," said Sadhguru Jaggi Vasudev at the India Today Body Rocks event.
Sadhguru Jaggi Vasudev was one among a galaxy of prominent yoga practitioners and teachers brought together by India Today on the occasion of June 21 being declared as International Yoga Day. In a blissful gathering at the Taj Palace hotel, Brahmakumari Sister Shivani, author Ira Trivedi and actor Nimrat Kaur, amongst others, gave the audience valuable advice on Yoga and its various asanas.
Junking the idea that yoga requires bowing down to Hindu deities or the sun, the Yoga guru said, "Yoga doesn't demand that you bow down to anyone. Your well being is entirely yours. Only at the time of instruction you have to be with somebody. Once you know what to do, you don't need to go to anybody or bow down to anyone."
"Yoga is the science of inner well being. Even when the socalled physical or modern sciences came about, the first people to resist were the religious people. This is because they have set beliefs and ideas which don't go with anything else," observed the mystic with over 100 titles in eight languages to his name.
"For surya namaskar," he elaborated, "The sun salutation is an English translation, an unfortunate translation. Surya namaskar does not mean sun salutation. Every life on this planet - whether it's an earthworm, a plant or a human being - is solar powered, so the sun's energy is stored in us. The question is how we make use of it."
"Surya namaskar is about seeing that your batteries don't deplete too often, which is happening to the modern society. If they skip one meal, they have headaches, tension and all kinds of anxieties. Yoga is about taking into consideration all five dimensions of the body - the physical, mental, energy, etheric body and bliss - and making its optimal utilisation."
"For the first time, the world has recognised that if human beings have to be well they have to look inwards. We have divided humanity in ways that we can't fix in near future. The only way we can be well is by turning inwards because human experience is generated from within," Sadhguru Jaggi Vasudev said.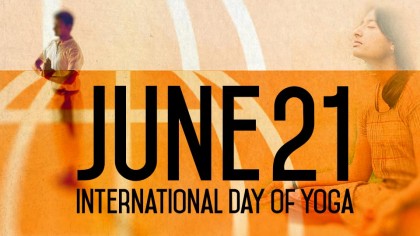 International day of YOGA, June 21
World Yoga Day June 21
The world yoga day. United Nations General Assembly has declared 21st of June as an International Yoga Day on 11th of December in 2014. Yoga in India is considered to be around 5,000 year old mental, physical and spiritual practice. Yoga was originated in India in ancient time when people were used of meditation to transform their body and mind. Launching a particular date of practicing yoga all across the world and celebrating as yoga day was initiated by the Indian Prime Minister to the United Nations General Assembly.
World Yoga Day Celebration
The celebration of the event International day of yoga is supported by various global leaders. It is celebrated by the people of more than 170 countries including USA, China, Canada, etc. It is celebrated on international level by organizing the activities like yoga training campus, yoga competitions and so many activities to enhance the awareness about yoga benefits among common public all over the world. It is celebrated to let people know that regular yoga practice lead to the better mental, physical and intellectual health. It positively changes the lifestyle of the people and increase the level of well-being.

All members, observer states, United Nations system organizations, other international organizations, regional organizations, civil society, governmental organizations, non-governmental organizations, and individuals get together to celebrate the International Day of Yoga in suitable manner according to the national priorities to raise the awareness about yoga.
History
Yoga (/ˈjoʊɡə/; Sanskrit: योग, Listen) is an Indian physical, mental, and spiritual practice or discipline. There is a broad variety of schools, practices and goals in Hinduism, Buddhism (including Vajrayana and Tibetan Buddhism and Jainism. The best-known are Hatha yoga and Raja yoga.
The origins of Yoga have been speculated to date back to pre-Vedic Indian traditions, but most likely developed around the sixth and fifth centuries BCE, in ancient India's ascetic circles, which are also credited with the early sramana movements. The chronology of earliest texts describing yoga-practices is unclear, varyingly credited to Hindu Upanishads and Buddhist Pāli Canon, probably of third century BCE or later. The Yoga Sutras of Patanjali from first half of 1st millennium CE is one of a key surviving major texts on Yoga. Hatha yoga texts emerged around 11th century CE, and in its origins was related to Tantrism.
Yoga gurus from India later introduced yoga to the west, following the success of Swami Vivekananda in the late 19th and early 20th century. In the 1980s, yoga became popular as a system of physical exercise across the Western world. Yoga in Indian traditions, however, is more than physical exercise, it has a meditative and spiritual core. One of the six major orthodox schools of Hinduism is also called Yoga, which has its own epistemology and metaphysics, and is closely related to Hindu Samkhya philosophy.