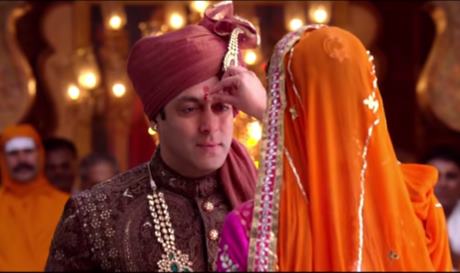 PREM RATAN DHAN PAYO Title Song
Top Hit Vido Songs
Presenting 'PREM RATAN DHAN PAYO' title track song from Hindi movie Prem Ratan Dhan Payo (2015) starring Salman Khan, Sonam Kapoor, Anupam Kher. This title song is sung by PALAK MUCHHAL and music directed by HIMESH RESHAMMIYA.
Music Programmers : Suhas Parab, Subhash Parab, Priyesh Vakil
Guitarist: Vivek Verma
Sound Engineers : Salman Shaikh, Sakar Apte and Anudutt Shamain at HR Musik Studio
Mixed and Mastered by: Salman Shaikh at HR Musik Studio

Story of REM RATAN DHAN PAYO
Yuvraj Vijay Singh (Salman Khan) is the very rich crown prince of Pritampur, who is soon to be crowned as king (namesake, as there are no official kings and kingdoms in modern India). He is engaged to Maithili (Sonam Kapoor) a princess from the royal family of a neighboring kingdom. However, due to his stiff and stubborn nature, Vijay faces many problems with Maithili as well as with his brother and sisters. His rich half sisters Rajkumari Chandrika (Swara Bhaskar) and Rajkumari Radhika (Aashika Bhatia) live in a separate rented bungalow outside the royal palace with Chandrika working as an accounts head in a municipal school and have filed case against Vijay for a share in the royal property, because they felt their mother (Lata Sabharwal)(a poet and later mistress to the late King) was wronged by the Queen (Karuna Pandey)when she disgraced her in the presence of all of the King's children. Furthermore, Radhika's and Maithili earlier who were best friends during school times, their friendship is shattered owing her engagement with Vijay. Similarly, his half-brother Yuvraj Ajay Singh (Neil Nitin Mukesh) vows vengeance and has been wanting to kill him and take the crown for himself. He enlists the help of his manager Chirag Singh (Armaan Kohli) and Vijay's secretary Sameera(Samaira Rao), Chirag is misguiding Ajay at every step while betraying him at his back. Yuvraj Vijay barely escapes an assassination plan coordinated by Yuvraj Ajay and Chirag to kill him but gets badly injured. He's hidden in a secret chamber maintained by two doctors.

Meanwhile, Vijay's lookalike Prem Dilwale (Salman Khan), a love guru, a perky, lively and carefree stage actor who falls in love with Princess Maithili, reaches Pritampur to meet her along with his friend Kanhaiya (Deepak Dobriyal). At a bus stop, the Security Head of Pritampur Palace, Sanjay (Deepraj Rana), notices him by chance and takes him to Diwan Sahib (Anupam Kher). Upon witnessing the striking resemblance between Prem and Yuvraj Vijay, Diwan asks Prem to take Yuvraj Vijay's place while Yuvraj recovers from coma. Prem acts as Yuvraj Vijay but with his simple and caring nature, he impresses Maithili who earlier wanted to break up with Vijay and falls in love with Prem unknowingly. Prem also attempts to reconcile with his sisters by bringing them back to the royal palace; he prepares legal documents handing over all of the royal family's properties to them. His half-sisters are so moved by this gesture that, with a little push from Maithili, they eventually have a change of heart and decline to deprive the prince of his fortune and reconcile with him as his sisters.

Meanwhile, Yuvraj Ajay and Chirag find out that Prem is only playing the part of the prince, and thus they kidnap the real Yuvraj Vijay. Chirag decides to double cross Ajay, as he frees Vijay and feeds him false information to pit him against Ajay and Prem. Vijay and Ajay get involved in a sword fight when Prem and Kanhaiya intervene and clear the confusion. Chirag tries to shoot them down but falls to his death. Ajay regrets his deeds, and Vijay reconciles with him. Maithili is shocked to know the truth about Prem not being Yuvraj Vijay after Prem has left to return to his home. In the end, the royal family reaches Prem's house to reunite Prem and Maithili, they get happily married along with Kanhaiyya and Sameera.
Salman Khan - Hero of REM RATAN DHAN PAYO
Abdul Rashid Salim Salman Khan is an Indian film actor, producer, occasional singer and television personality. In a film career spanning over thirty years, Khan has received numerous awards, including two National Film Awards as a film producer, and two Filmfare Awards for acting.
Sonam Kapoor - Heroine of REM RATAN DHAN PAYO
Sonam Kapoor Ahuja is an Indian film actress. She has received a National Film Award and a Filmfare Award, and from 2012–2016, she appeared in Forbes India's Celebrity 100 list based on her income and popularity. Tamil Film Actresses