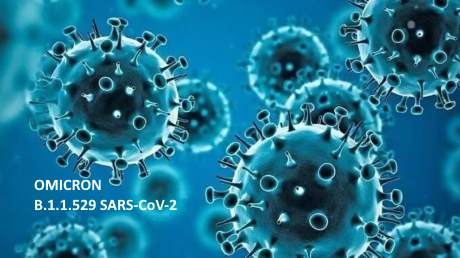 CORONA - NEW VARIANT - OMICRON
The World Health Organization (WHO) has declared a new coronavirus variant B.1.1.529 to be "of concern" and named it OMICRON. It had a large number of mutations, and early evidence suggested an increased reinfection risk,
The prestigious Bambino Gesu hospital in Rome produced the first "image" of the new strain and confirmed that there were many more mutations than seen in the Delta strain.
On Omicron, the team of researchers, however, said "this does not automatically mean that these variations are more dangerous, just that the virus has further adapted to the human species by generating another variant".
"It will now be important to define through laboratory experiments whether the combination of these mutations can have an impact on transmission or on the effectiveness of vaccines, for example," a researcher said.
The WHO in an update said it is not yet clear whether Omicron is more transmissible (e.g., more easily spread from person to person) compared to other variants, including Delta.
"The number of people testing positive has risen in areas of South Africa affected by this variant, but epidemiologic studies are underway to understand if it is because of Omicron or other factors," the agency added.
The WHO also said "it is not yet clear whether infection with Omicron causes more severe disease compared to infections with other variants, including Delta."
Omicron: List of 'at risk' countries and situation in India.
The central government has released revised travel guidelines to check the spread of the Omicron variant of coronavirus. It has also released a list of 'at risk' countries, which Omicron cases have been detected.
What are the "at risk" countries?
These are the nations where cases of Omicron strain have been found. The variant was first detected in southern Africa and has since spread to a number of countries.

As per the new guidelines released by the government, the UK, entire Europe and 11 countries - South Africa, Brazil, Bangladesh, Botswana, China, Mauritius, New Zealand, Zimbabwe, Singapore, Hong Kong and Israel - are "at risk".
Rules for passengers arriving from "at risk" countries
Passengers travelling from or transiting through 'at-risk' countries will have to undergo RT-PCR test on arrival in India and will be required to wait for the results before leaving the airport or taking a connecting flight, according to revised guidelines issued by the Health Ministry.

Travellers who test positive will be taken to a medical facility for isolation, where they will need to stay till they test negative if they indeed are infected by the Omicron variant. If they are infected by any of the other variants, their release will be at the discretion of a doctor based on their condition.

For people who test negative after coming from the listed countries, they will need to be in home quarantine and take another test on the eighth day. If they are positive, they will need to report to the Covid-19 helpline, the guidelines said.

These travellers will also have to declare their travel history for the last 14 days.