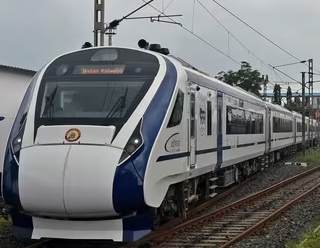 New 9 Vande Bharat trains - Sep 24, 2023
The Vande Bharat Express is a short-distance train service operated by Indian Railways. Similar to Shatabdi Express, these are day train services that connect major Indian cities which are in a distance of less than a day's time. The trainsets can support semi-high speeds but due to the railway track speed capacity, multiple stoppages and traffic congestion, the operating speed of the services are limited to 160 km/h (99 mph) on a section of the Delhi-Bhopal service and 110–130 km/h (68-81 mph) on other services.
How many Vande Bharat trains will be there in India?
There are 25 Vande Bharat Expresses in the country, and the count will rise to 34 in a few days. According to sources, the new routes are Jaipur-Udaipur, Patna-Howrah, Ranchi-Howrah, Hyderabad-Chennai, Chennai-Tirunelveli, Indore-Jaipur, Puri-Rourkela, Jaipur-Chandigarh and Jamnagar-Ahmedabad.
A list of nine new Vande Bharat trains
| | |
| --- | --- |
| Serial Number | Route |
| 1 | Kasaragod - Thiruvananthapuram (Kerala) |
| 2 | Jaipur - Udaipur (Rajasthan) |
| 3 | Vijayawada - Chennai (Andhra Pradesh and Tamil Nadu) |
| 4 | Tirunelveli - Chennai (Tamil Nadu) |
| 5 | Jamnagar - Ahmedabad (Gujarat) |
| 6 | Ranchi - Howrah (Jharkhand and West Bengal) |
| 7 | Secunderabad (Kacheguda) - Bengaluru (Yesvantpur) (Telangana and Karanataka) |
| 8 | Rourkela - Puri (Odisha) |
| 9 | Patna - Howrah (Bihar and West Bengal) |
The Vande Bharat Express was designed by the RDSO and manufactured by the Integral Coach Factory (ICF). The specifications were also standardized by the RDSO. It was made for low-cost maintenance and operational optimization. The cost of a 16-coach Vande Bharat train is about ₹115 crore (US$14 million).
The sleeper train version of the Vande Bharat is expected to be a significant addition to the chain, providing comfort to the passengers to travel long distances overnight.
The ICF is also developing a new type of Vande Bharat train called the Vande Metro. It will be a 12-coach train, designed for short-distance travel. Vande Metro will be rolled out by January which will have 12 coaches.